Popular Posts
No.of pages : 124(epub version) Print length : 180 pages Publisher : Maysun in C Published on : December 31st, 2014 Genre : Children...

Paperback:  231 pages Publisher:  Grapevine Publishing  Release date: December, 2012 Language:  English Genre: Young-Adult, Tru...

No. of Pages :  194 Publisher :  Srishti Publishers & Distributors Published on : Novemeber 16, 2016 Genre : Young Adult Book Lin...

No.of pages : 462 Publisher: Harmony River Press Publishing date : 10th November 2016 Genre: Romance Book links:   Goodreads   Facebo...

No.of pages : 98 Publisher : Notion Press Published on : October 23, 2016 Genre :  General fiction Book links : Goodreads   Flipkart ...

The book was received as part of Reviewers Programme on The Tales Pensieve . Paperback: 317 pages Publisher: Cactus Publication da...

No. of pages : 243 Publisher : The unnamed press Published on : March 29, 2016 Genre : Young Adult Book Links : Goodreads   Amazon...

  No.of pages : 336   Publisher : Leadstart corp   Published on : January 1 2013  Genre : Fiction   Book links : Goodreads   Amazon...

No.of pages : 200 Publisher : Patridge  India Published on :August 18, 2016 Genre :Self-help , Fiction Book links : Goodreads   Fli...

No.of pages : 316 Published on : August, 2013 First published : 27th July, 2012 Publisher : Niyogi books Genre : Science fiction/politi...

Blog Archive

Thursday, October 27, 2016
05:16
|
Posted by Periodical Gazette
|
|
Edit Post
Bestselling author Shatrujeet Nath will lead an interactive session on what makes great fictional characters great. Shatrujeet will deconstruct great characters to explain why they are so striking & memorable. Ideal for both aspiring writers and avid readers.
Where?
The event will happen in Odyssey at Adyar, Chennai. Everything you need to know about the much awaited event can be found by clicking this facebook link
https://www.facebook.com/events/293740761024848/
Just follow the above link and click interested if you wish to go to the event but not sure whether you can go to the event because of the timing. All those who want to go to the event, click going.
If you have read all books written by the author or at least two books or even one book and you currently live in Chennai, then you are the person we are looking for and do you know a deep reader who is not a blogger but just a friend of yours, go ahead and bring them along with you. Do not forget the date of the event. Kindly, note it down in your diary. It is November 2nd, on Wednesday approximately at 7 PM.
Books written by the author in chronological order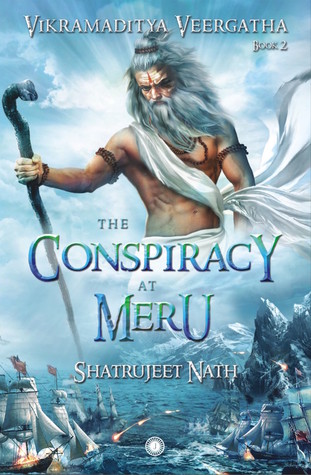 About the author
Door-to-door salesman, copywriter, business journalist & assistant editor at The Economic Times; Shatrujeet Nath was all this before he took to writing fiction full-time. He debuted with The Karachi Deception in 2013, followed by The Guardians of the Halahala and The Conspiracy at Meru, the first two books in the Vikramaditya Veergatha series. At present, he is writing volume three of the series. Shatrujeet lives in Mumbai, but spends much of his time in the fantasy worlds of his stories.