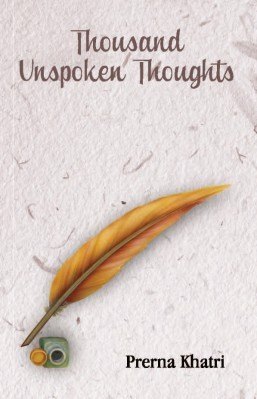 No.of pages : 97
Publisher : Leadstart publishing Ltd
Published on : 29th July 2015
Genre : Poetry
Book Links :
Goodreads
Amazon
Author Links :
Goodreads
My review

This is my second time reading a poetry book. Have to be honest, I don't know why I was apprehensive of reading poetry books in the past. After reading the collection of fifty poems authored by Prerna Khatri, it made me not relinquished to read more poetry books in the future. Her book is a source of inspiration to all readers not confining to particular age group.

The words flow naturally throughout and they are not just words. They have life in them . We can feel the in-depth emotion of the author and in short, we can put ourselves in the shoes of the person that the author is talking about or herself in each poem, so we can experience it and envision it . I liked almost all poems but there are very few poems I did not like. It so happens with all poetry books I guess. These poems I am displeased were simply lame.

Other than that, she has done a splendid job by trying her best and taking effort to publish this wonderful book. Thumbs up for her sincerity and uprightness.Her poems speak for itself.It is so sweet she dedicates her book in the remembrance of her late grandfather. I have included some of my favourite stanzas from the poems I read.


Connect.
Connect with yourself.
Life will be easier then.

-On silence

Did you not listen, what I meant,
Even though I asked you to leave?
You should've read between the lines;should've pleaded, should've asked to stay.

-The last time

Why had I abandoned my belief?
Why did I despise my holy abode?

-Return home, my son

Tonight I choose to write,
Because, none of the suppressed tears,
Can stop me now.
These words have finally found a way,
To defy the judgmental eyes.

-Tonight, I'll write

Now,
Regardless of the neglect,
Treating life as a gift,
I proceed towards my aim,
Because even the sky is limitless.

-Dare to be?

Was the nation,
My mother?
Or was I, her shield?
Will I live up,
To the glory of her name?

-Embracing the battle-front

Playing with the utensils instead of blocks,
Cleaning the kitchen instead of running around

-A wish

Each idea had a voice
A voice,
That expressed the passion of the soul within.
Will that voice be heard?

-The birth of an idea!

As the book says, these are all the thoughts of the author that were unspoken. She has made a very wise choice by writing this poetry book. She duly thanks all her friends and family for their support. After learning that the author is an advocate, it totally surprises me why she has written a poetry book instead of writing about law and order in our country. I would love if she writes more inspiring stories that helps to improve our nation and our people specifically like her beautiful poem about child labour.

I would suggest whomsoever is reading this post if you feel ill and torn due to disappointments in life, then read the poems from the book. It will sure be an ointment to your punctured soul. It doesn't matter how many times you have read the poems. It gives immense peacefulness. We are able to forget our fears and insecurities and feel the strength to embrace the new challenges of the world boldly. This 90 something pages book gives new hope to restart our life with a purpose.
My verdict

Thousand Unspoken Thoughts indeed accounts for a very fulfilling read. I will recommend it to all voracious readers of any genre(all poems are fictions but many feels same as reality)starting from the age 12. Why I am stressing this age is there are one or two poems that has adult contents. But the young children who read it probably wouldn't know the difference. So they can also read it.
Rating 5/5
I won a review copy from
The
Tales
Pensieve
as part of Reviewers Programme.
Register
on #TTP for lots of #book fun and activities.