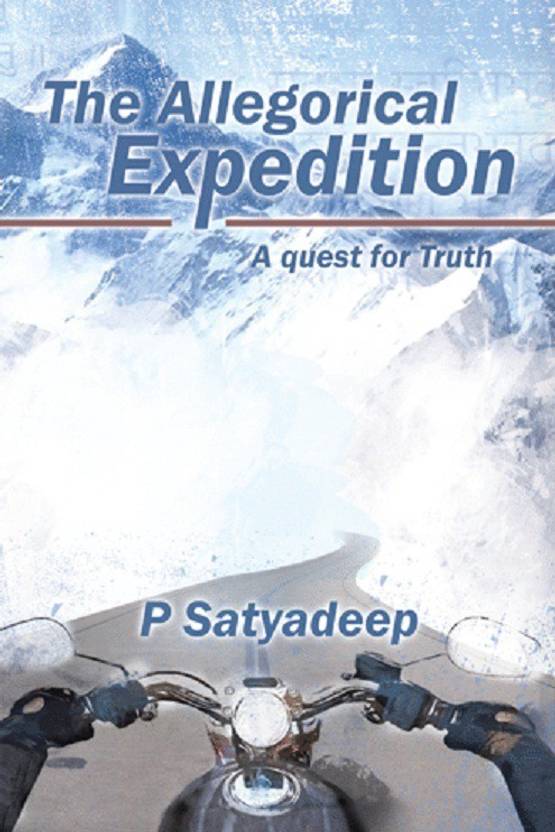 No.of pages : 200
Publisher : Patridge India
Published on :August 18, 2016
Genre :Self-help , Fiction
Book links : Goodreads Flipkart Amazon Facebook
Author link :Goodreads
My review
This book is one of the best I have read so far in 2016. Don't get me wrong. I don't say this usually. Author Satyadeep is someone who knows what the voracious readers of today want. Satyadeep ventures into writing with a strong story plot that not only grabs the interest of the readers throughout the story but also manages to educate the readers. The allegorical expedition: A quest for truth is a wonderful read. I liked the flow of the novel and how it encourages those who read the book to know the story of Satyajit, a top notch film director in Bollywood.
The novel revolves around Satyajit alias SJ. He has given many blockbuster movies and is confused and stressed out because he doesn't know what kind of film to direct next to remain permanently in the hearts of the people who watch his movies.This makes him nervous and take solace in all the wrong places. He is not able to differentiate between the people who truly care for him and who don't. He learns his mistakes very soon.
He hurts Maaya his long time girlfriend or say childhood friend in the process but soon these two make up. Satyajit has selected a script that was shortlisted by Maaya and he needs to do some thorough research on the topic. Without Maaya's support, it cannot be possible. He confesses his love for her and promises her once he finishes his dream project, he will settle down with her. Maaya agrees to this. This is just the beginning of the story.
This novel is like a spiritual movie. You get to know many things you didn't know before. Being on a spiritual mission is the quest for truth. We have all been to temples, churches, etc but this novel gives a feeling as if we are experiencing the oneness of body and mind when traveling with Satyajit.One question leads to another question. We all believe civilization of other countries but why not our own ancient civilization? This is said by Rai and Dharma.
I have to add some inputs here. Even if we believe our ancient civilization and how it all existed and how Rameshwaram was named, I wanted to know how languages of all countries came into existence. This was bugging me so much from the beginning. The languages we speak are picture perfect. Nobody can argue with it. Who created all these?I want answers to these questions more than Satyajit getting the approval from Teja alias Dharma's book and clarify his doubts. The rest of the book also triggered so many thoughts but gave a serene feeling.
What we learn through this book? Did Satyajit find what he wanted? Whom he did he meet and why and how? Did he get answers to all throbbing questions he had? What did he learn after the allegorical expedition? What truth did he find out and how it served him well to produce his movie?
Let me be frank. The novel is unpredictable You experience peace of mind through this novel. Each and everyone must read the book and gain wisdom. All those who are looking for a fiction novel that stands out amid other novels must buy this book. I am sure you will be benefited.
Some notable characters other than the main protagonist, Rai, Dharma in the book are panditji and Shantilatha.
The novel ends with a cliffhanger.
I sincerely hope there is a sequel and wish that the author clarifies my doubt in his second book.
Rating 4/5
Disclaimer
I won a review copy from
The

Tales

Pensieve
as part of Reviewers Programme.
Register
on #TTP for lots of #book fun and activities.